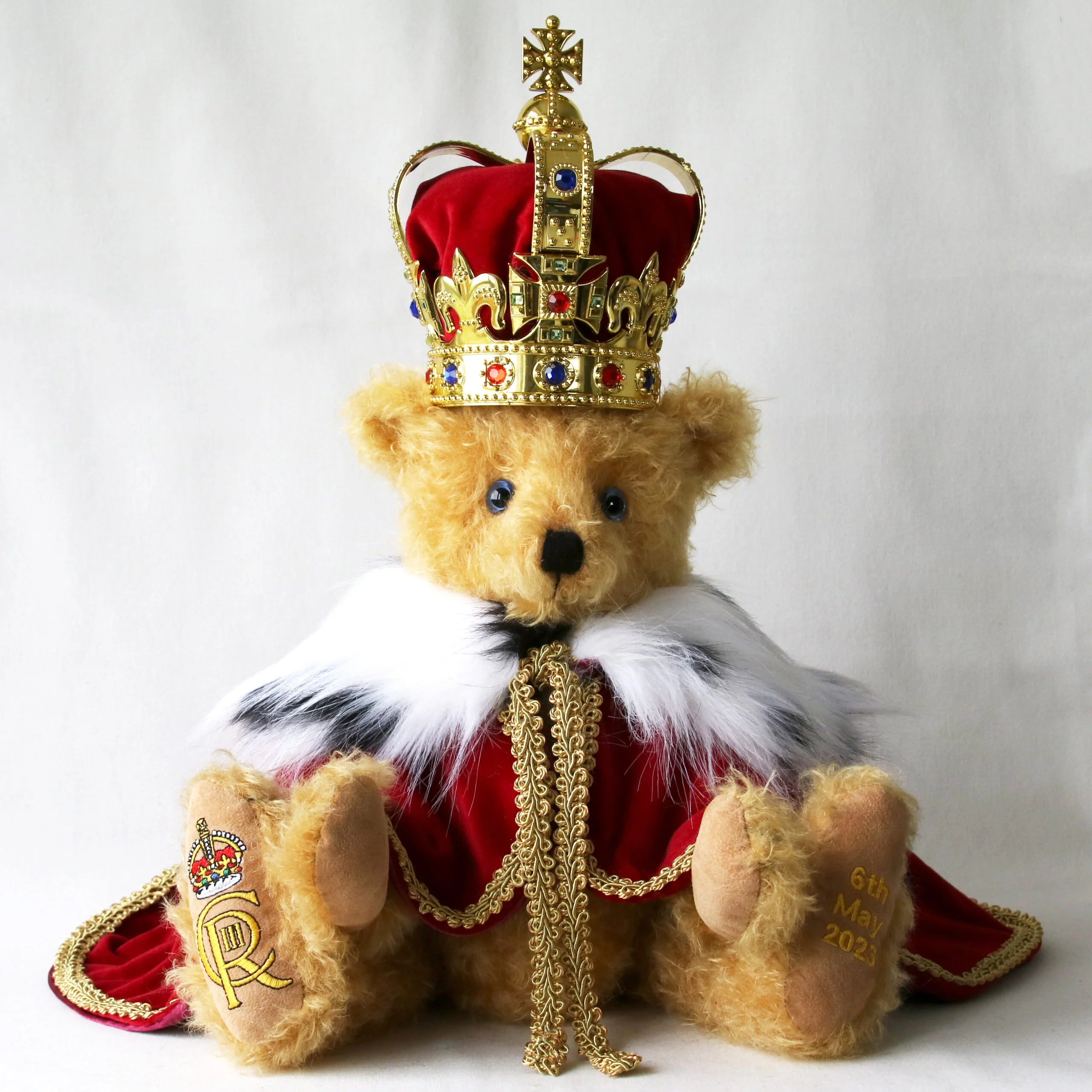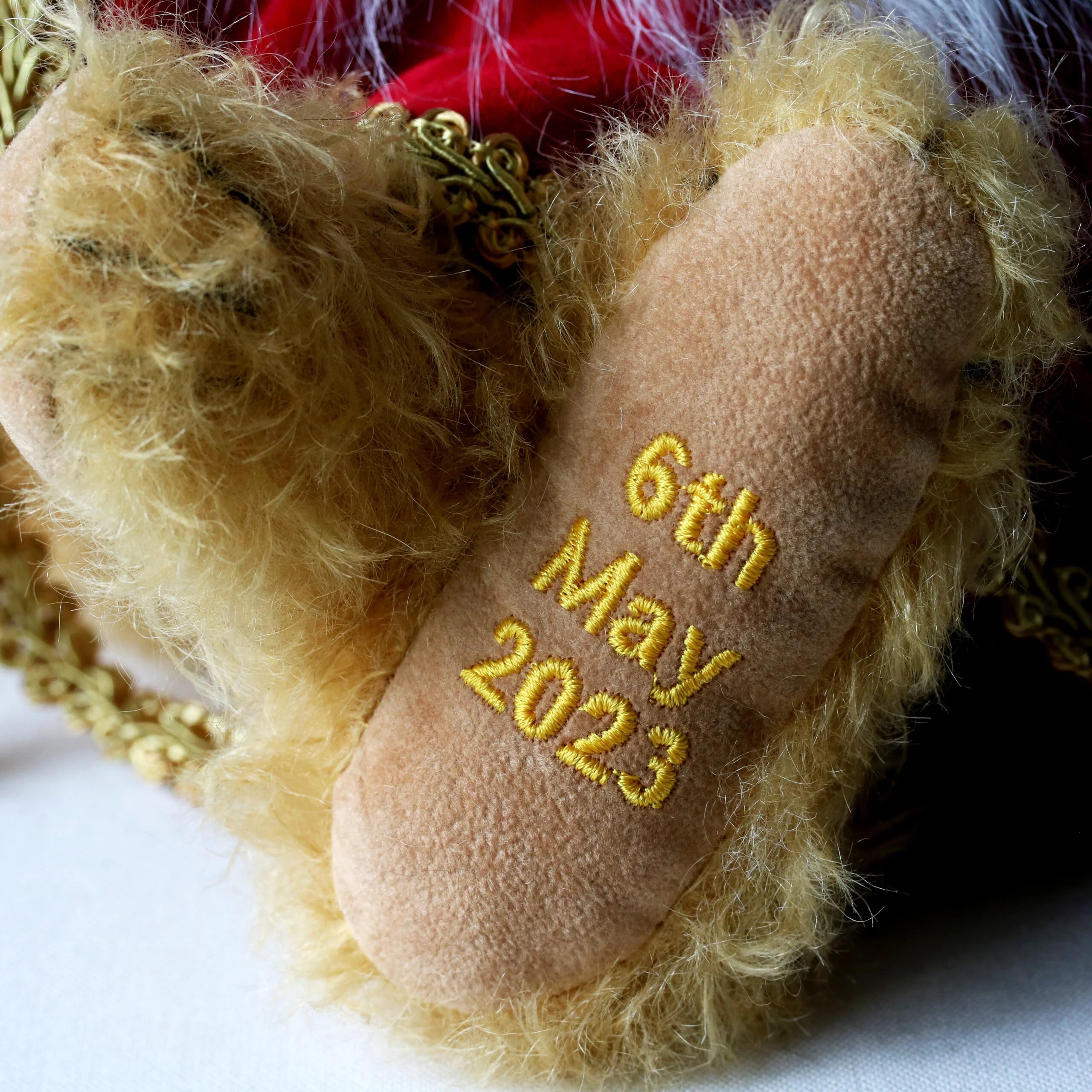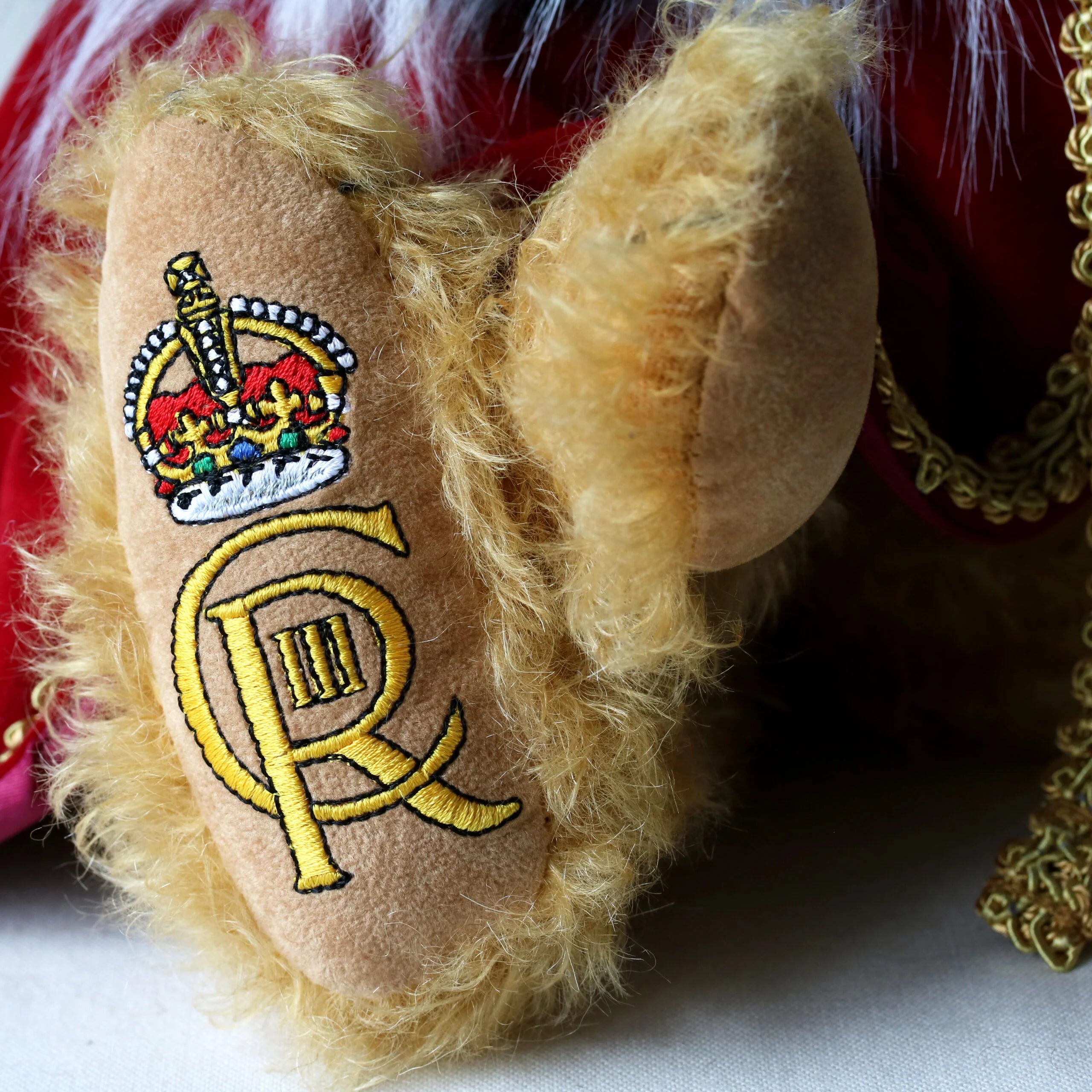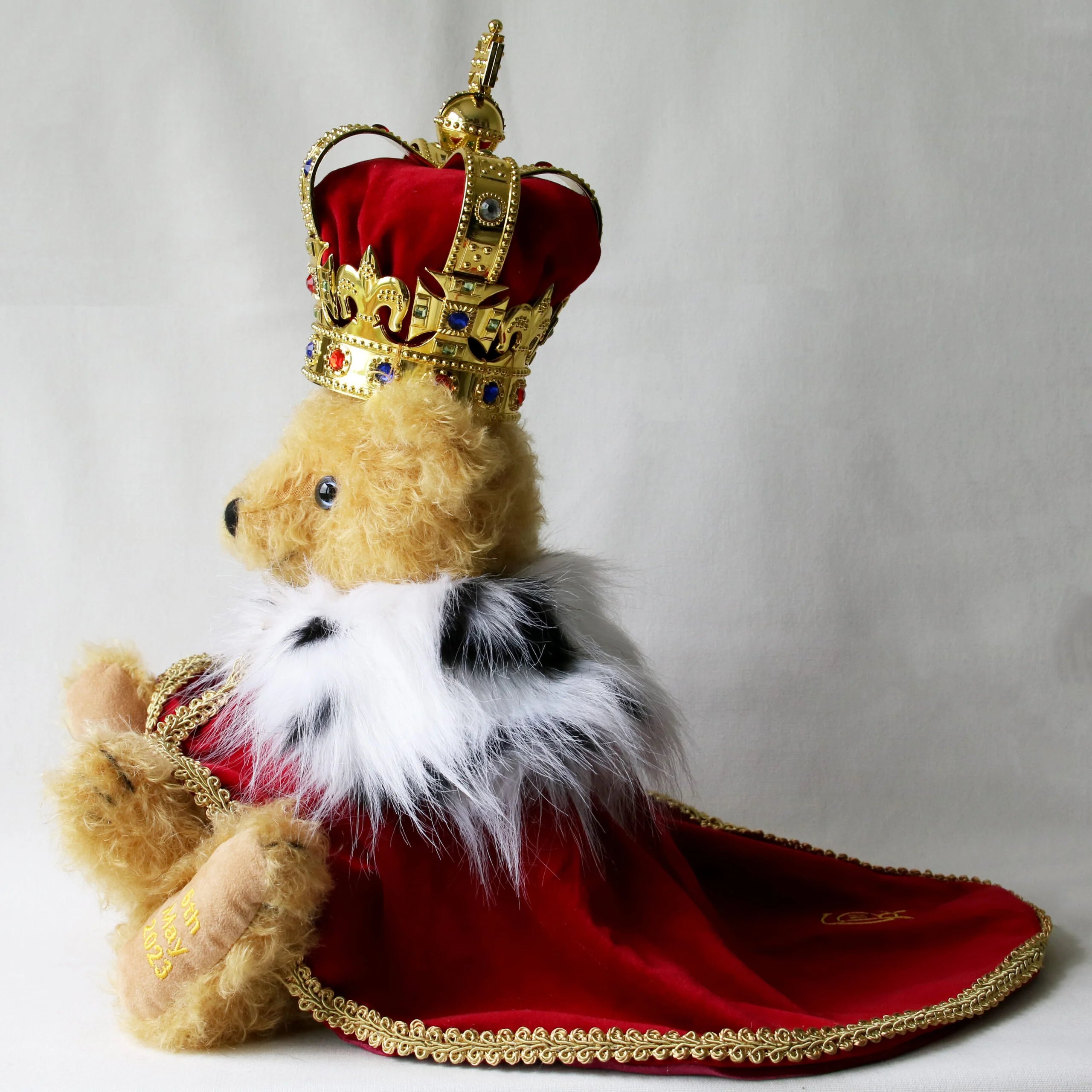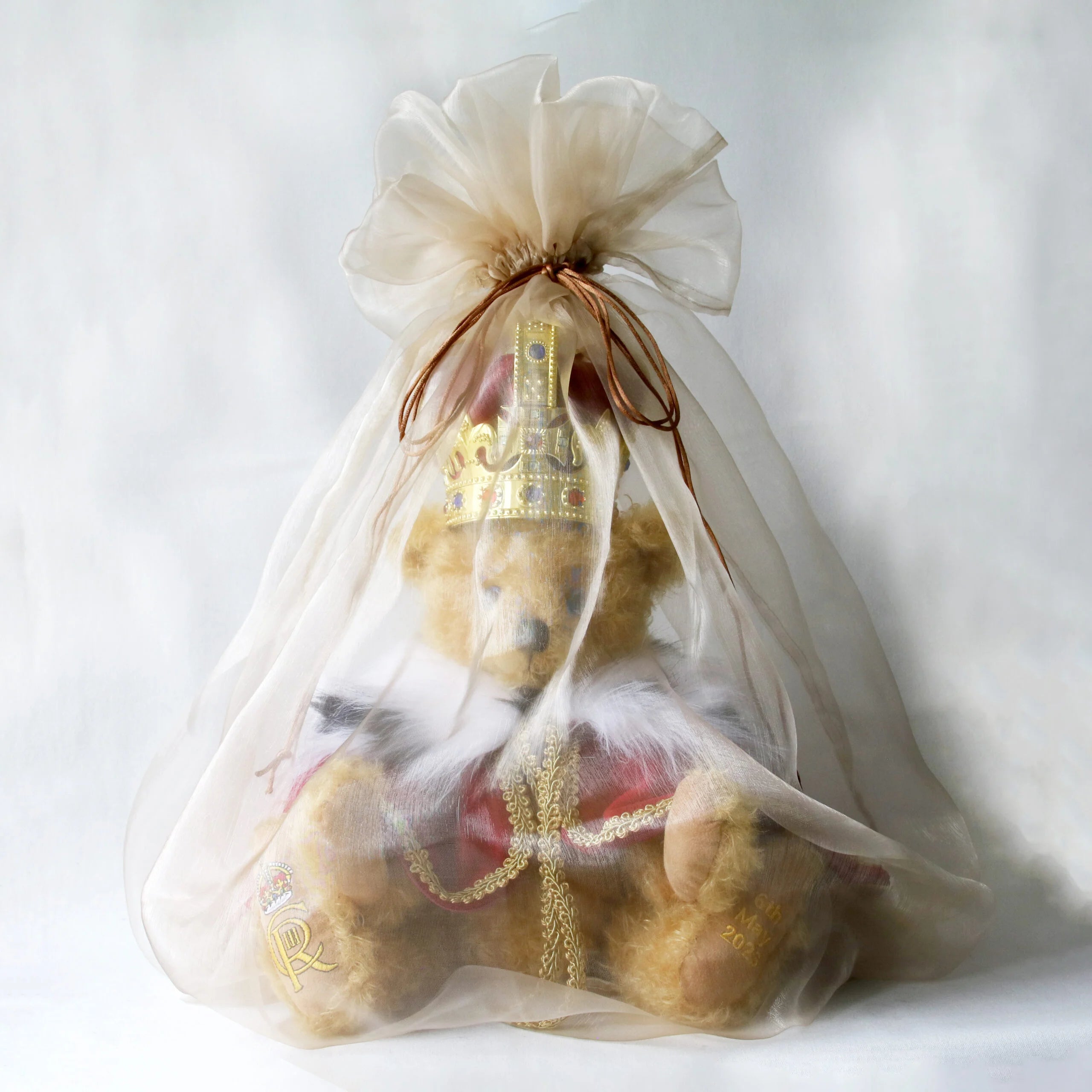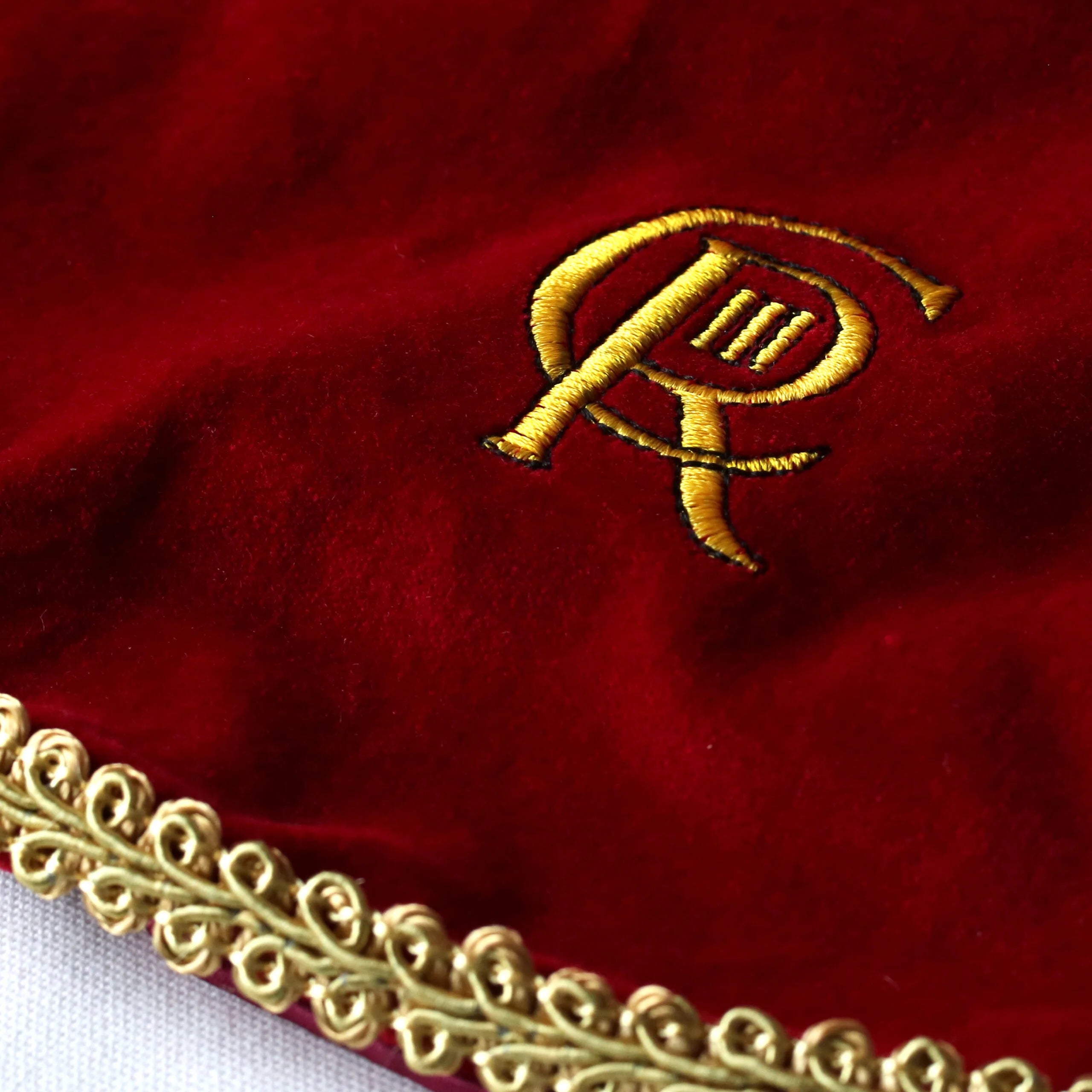 King Charles III Coronation Bear
Designed & Handmade In The U.K.
90 Day Money Back Promise
Lifetime Guarantee
Est. despatch time: From 10th October
---
Our King Charles III Bear has been created in order to celebrate the year of His Majesty's coronation and to commemorate a new era of our Royal Family.
King Charles III is made from 100% pure golden curly mohair with coordinated smooth ultra-suede pads and paws. He is fully jointed with our own hand stamped wooden joints and is soft filled with pure white polyester stuffing with a weighted tummy. He has a classic black hand-embroidered nose and hand blown English glass eyes in a pale blue to inspired by the King's own.
This commemorative bear is dressed in a royal velvet robe in a luxurious deep red, adorned with gold braiding, a thick fur collar and an embroidery of His Majesty's cypher. He also wears a decorative bejewelled replica crown on his head. His foot pads are delicately embroidered with the full royal cypher and the date of the coronation.
Made in a limited edition of 100, each bear comes in a handmade sheer golden organza drawstring bag.
Due to this bear's glass eyes it is not recommended as a play item for children under 14.
Primary Material: Mohair
Height (Standing): 38 centimetres, (15 inches)
Age rating: 14+
Please remove all tags and accessories before giving to a child.
We recommend washing King Charles III Coronation Bear in warm soapy water. King Charles III Coronation Bear can be gently brushed and blow dried with cool air. We don't recommend submerging in water.
Delivery Costs and Timings

All of our products are handmade to order and shipped from the U.K. Worldwide delivery is available on all of our products.

Below delivery times are estimates and depend on the estimated despatch time of the product.

United Kingdom (🇬🇧) :

Free delivery on orders over £70.

Orders under £70 charged at £4.50.

Orders typically take 2-5 business to be delivered.

Europe

Deliveries to countries using the Euro (€) are charged at €9 (EUR).

Deliveries to countries in Europe not using the Euro are charged at £10 (GBP). This cost will be converted to your local currency.

Orders typically take 2-7 business to be delivered, depending on your location.

Rest of World:

🇺🇸 Delivery to US: $20 (USD)

🇨🇦 Delivery to Canada: $25 (CAD)

🇦🇺 Delivery to Australia: $30 (AUD)

All other deliveries outside of Europe are charged at £19. This which is converted to your local currency at checkout.

Delivery typically takes between 4 - 10 business days depending on your location.
90 Day Money Back Promise

We want you to love King Charles III Coronation Bear. If you're not 100% happy with King Charles III Coronation Bear, you can return it to us within 90 days of receiving your item. You can click here for our full returns policy.
We're confident that you'll love our creations. They're handmade to the highest standard and very rarely need to be repaired.

However, over a lifetime, they may need some TLC. After purchasing King Charles III Coronation Bear, if it needs structural repair (eg. seams that have come undone, an unravelled nose, or loose eyes), we will repair free of charge.

If there has been accidental damage (we know how much your pets like our products!) then we can quote for a repair. In either instance please contact us with images and we can talk you through next steps.